North Macedonia and Albania are a step closer to membership after Skopje resolved its disputes with Bulgaria
The European Union has initiated accession talks with North Macedonia and Albania, EU Commission President Ursula von der Leyen announced on Tuesday.
Speaking at a press conference in Brussels, von der Leyen hailed Skopje and Tirana for their progress on the path to joining the bloc, including strengthening the rule of law, fighting corruption, and implementing a range of reforms.
She said the governments of the two Balkan nations have been making headway to become EU members because those steps are "good for your countries and are already delivering a better quality of life for your people."
"This historic moment is your success. The result of your hard work," she reiterated.
"We have taken another important step towards bringing the Western Balkans closer to the EU. It's a great success of our presidency," Czech Prime Minister Petr Fiala tweeted on Monday.
North Macedonia (then Macedonia) was granted candidate status back in 2005, but it took Skopje years to resolve some of its disputes with neighboring countries, including Bulgaria, which had blocked the nation's accession to the EU over linguistic and historical issues.
This opposition also hindered Albania's progress, given that the EU treats the issue as a part of a single package. Notably, the two nations go together in the EU's 2021 enlargement package, a comprehensive strategy that sets priorities in removing obstacles for EU membership for the Western Balkans.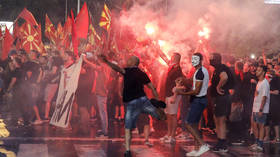 On Sunday, however, Bulgaria and North Macedonia managed to strike a deal allowing Skopje and Tirana to formally initiate accession negotiations with the EU. North Macedonia, in particular, agreed to amend the nation's constitution to acknowledge its Bulgarian minority, protect minority rights, and fight hate speech.
Before that, however, the French-led "compromise solution" on the matter sparked fierce protests in North Macedonia, which saw crowds of nationalists rallying outside the parliament building and clashing with the police.
It may take years before the two Balkan countries actually become fully fledged EU members, with no deadline set for the process. To join the union, the candidates must undergo a screening process of national legislation in order to align it with EU law.
You can share this story on social media: